The software for
house building trades
Easy to use, multi-user software to track build progress, programme dates, variations & income values over multiple sites.
---
Waitlist now open
---
---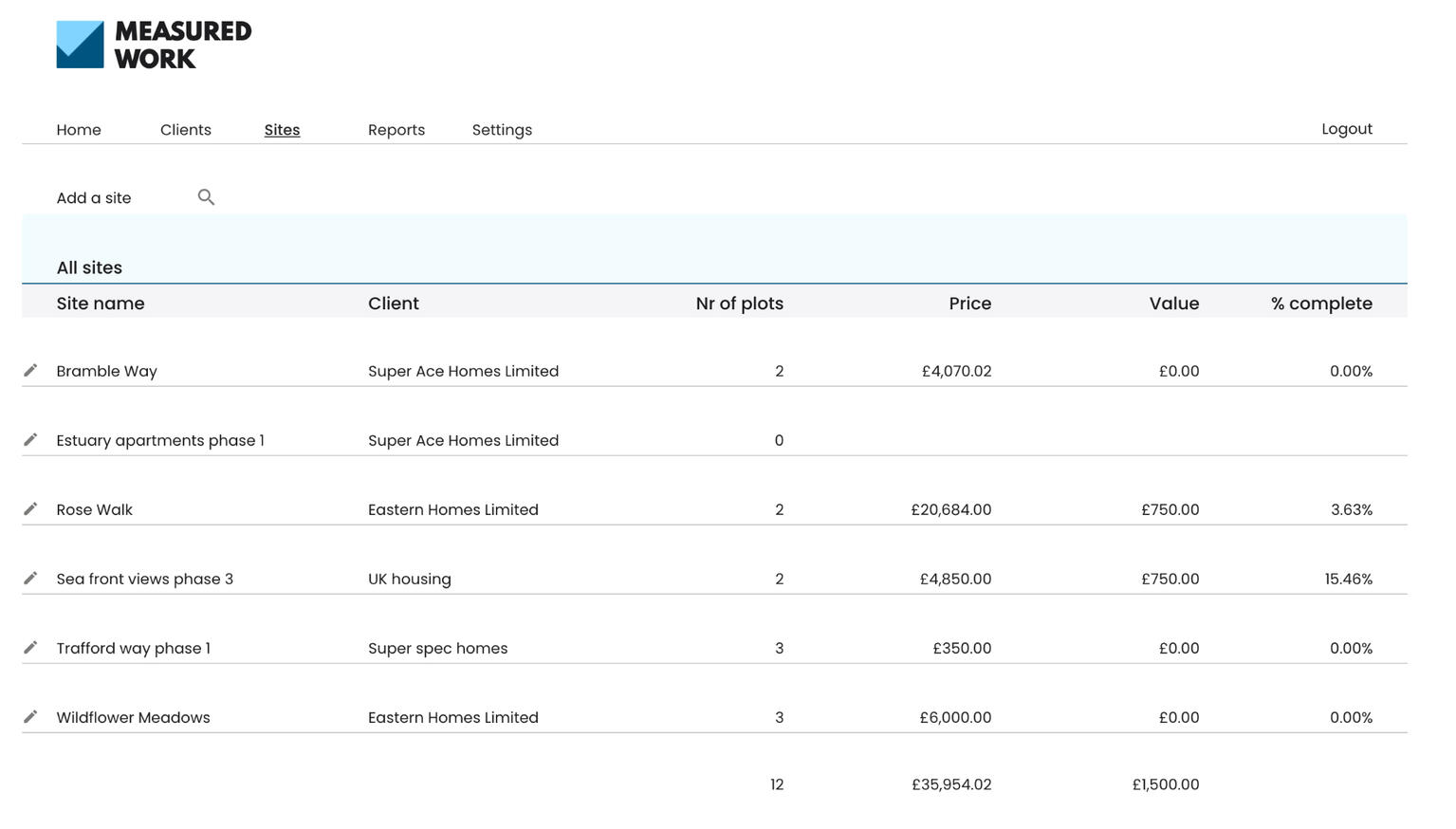 Representative example of 'All Sites' screenshot with test data
Features
---
Control
Take control of your housing site contracts with easy to use, purpose-built software, made for house building subcontractors by housing professionals.
Access anywhere
With remote valuations you understand, in real-time, the value of your contracts as each site progresses. Then create hassle-free invoices in an instant.
Metrics
Take advantage of automatically generated client and contract related statistics to make better decisions for your business.
Multi-user
Multi-user access with content-restricted roles means your site supervisor can update build progress on-site. You'll see the changes instantly wherever you are.
Build programme insight
Take control of programmed targets with stage-specific actual completion date comparisons, photos and supporting notes.
Variations
Confidently accept variation works that are correctly instructed and automatically included in your next invoice.
---
---
Early user feedback
---
"The ability for my foreman to remotely record stage completions on site means hours saved when preparing invoices"
"Having completion dates compared to the programme dates automatically will be perfect for my weekly progress meetings"
"Not having to worry about invoices is life-changing; it'll save us hours every month"
---
Get involved
---
We want to speak with house building subcontractors in the UK to learn about admin and process problems that we can solve together. Get in touch for a chat and a demonstration.
---
---
Thank you
Thank you for registering your interest.
Keep an eye on your inbox for Measured Work build and launch updates.
---