Measured work is a prototype application. It's not available for sale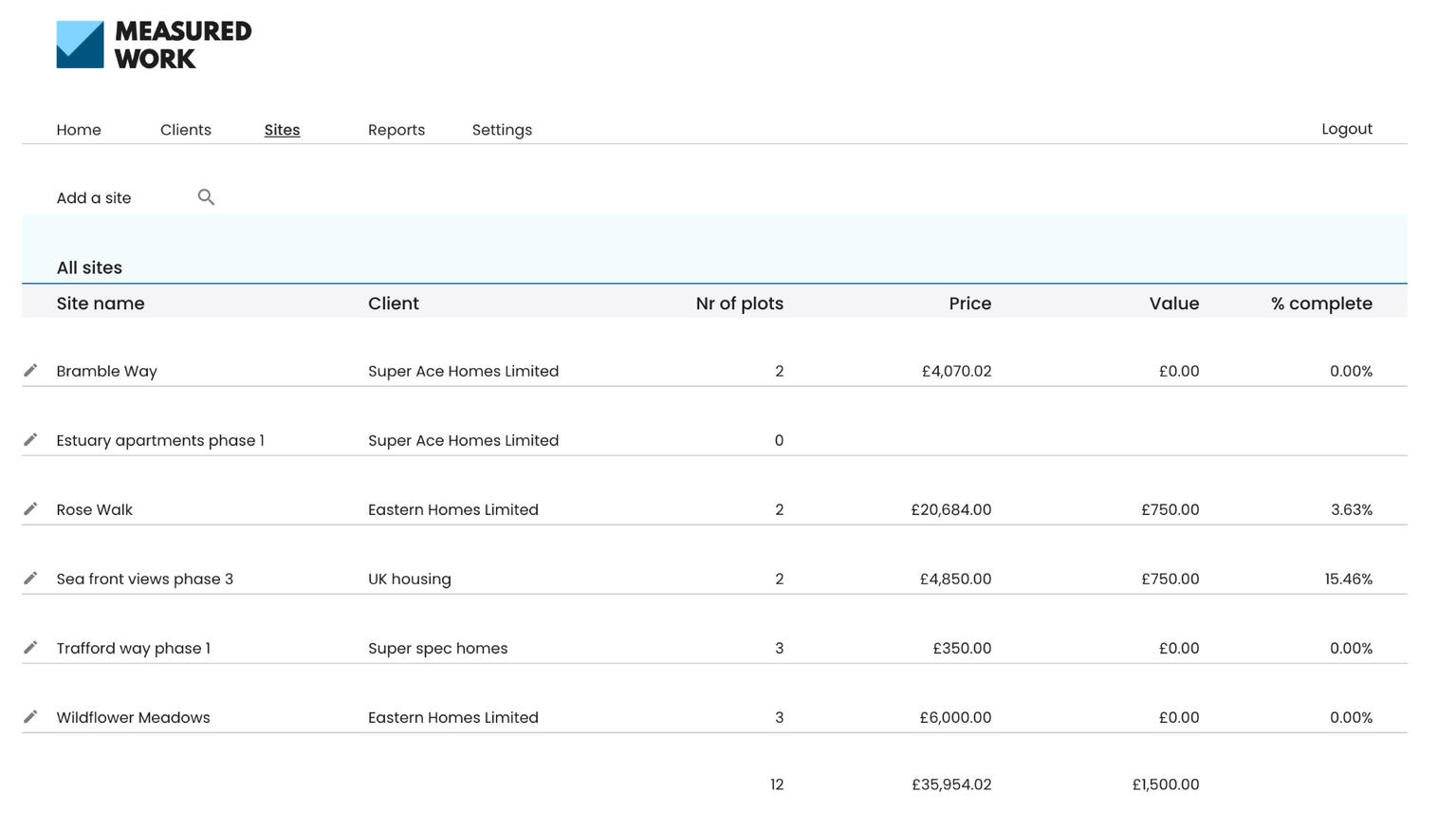 Welcome to a better way of building houses
Easy to use, multi-user software to track build progress, programme dates, variations, income and cost values over multiple sites.
---
Beta-testing feedback:
"The ability for my supervisors to remotely record stage completions on site means that I'd save hours when preparing my invoices"
"I love being able to add photos and notes for each stage of any plot"
"Having completion dates compared to the programme dates automatically will be perfect for my weekly progress meetings"
Measured Work is for house building trades
Take control of your sites with purpose-built software that records your progress and automatically generates valuable data and statistics.
Measured Work uses the progress of your job to instantly calculate income and cost. The same data can be used for invoicing, payments, programming and business metrics.
---
Measured Work Home screen on iOS device
Measured Work Client screen on Android device
Business data for all trades
Measured Work is built to reflect the familiar relationship between clients, sites, plots & stages. It generates relevant data, giving real-time answers for each of these categories.
Refresh your decision making by instantly comparing the to-date profit with the overall profit and better understand your forthcoming cashflows.
Make the most of your data. Prepare invoices, payments & programme meeting notes using the information you've already gathered. Work smarter and increase your capacity
Update your data from anywhere using any device. Use Measured Work offline and in areas of poor signal. Data will automatically sync when you're back online
Programme dates are automatically compared with actual completion dates. Where you're late, add notes and photos to justify the delay and avoid costly repercussions.
Informative at a glance
Quickly understand which stages are already finished and which are left to do. Mark each checkbox as done with a single touch. Measured Work will record the date and compare it with the programme for you.
Measured Work Plot screen on desktop

Measured Work Stage screen on iOS device
Granular data from your team on site. In real time.
Add a supervisor to your account and they can update Measured Work for you. They'll update progress, add variation orders, upload photos, write notes and see programme data. Financials are not displayed and deleting privileges are restricted.
Set your own trade-specific names for each stage of work and define any number of build stages suit your business.
Take a tour
Watch a walk-through of Measured Work's main features.
Support
---
Measured Work is built with Glide. It uses a Google Sheet for it's database. You will need a Google account use Measured Work.
Terms & conditions
We aim to provide a valuable service that is easy to use and fairly priced. In order to ensure your expectations of us are correct please read the following terms and conditions before placing an order.
The use of this website is subject to the following terms and conditions
If you continue to browse and use this website you are agreeing to comply with and be bound by the following terms and conditions of use, which govern Measured Work's relationship with you in relation to this website.

The term 'Measured Work' or 'measuredwork.com' or 'us' or 'we' refers to the owner of the website.

The term 'you' refers to the user or viewer of measuredwork.com or any associated website owned or operated by the owner of measuredwork.com.

The content of the pages of this website is for your general information and use only. It is subject to change without notice.

Neither we nor any third parties provide any warranty or guarantee as to the accuracy, timeliness, performance, completeness or suitability of the services, information and materials found or offered on this website for any particular purpose.

You acknowledge that such information and materials may contain inaccuracies or errors and we expressly accept no liability for any such inaccuracies or errors to the fullest extent permitted by law.

Your use of any service, information or materials offered on this website is entirely at your own risk.

It shall be your own responsibility to ensure that any products, services or information available through this website meet your specific requirements.

This website contains material which is owned by or licensed to us. This material includes, but is not limited to the design, layout, look, appearance and graphics. Reproduction is prohibited without prior written consent from us.

All trademarks reproduced in this website, which are not the property of, or licensed to Measured Work, are acknowledged on the website.

Unauthorised use of this website may give rise to a claim for damages and/or be a criminal offence.

From time to time this website may also include links to other websites. These links are provided for your convenience to provide further information. They do not signify that we endorse the website(s). We have no responsibility for the content of the linked website(s) and will accept no liability for loss or damage arising form such usage.

You may not create a link to this website from another website or document without prior written consent from us.

Your use of this website and any dispute arising out of such use of the website is subject to the laws of England, Scotland and Wales.
Use of the measuredwork.com web site including use of services offered
The terms 'service' or 'services offered' refers to the use of the paid for Measured Work service available at measuredwork.com.

These terms and conditions constitute the entire agreement between you and Measured Work and condition your use of the service.

By using the measuredwork.com website service, you are agreeing to be bound by these terms and conditions.

The Measured Work service is only offered in the UK. Solicitations from outside the UK will not be supported.

Measured Work reserves the right to change these terms and conditions without notice at any time.

Any revisions to the service shall be subject to these terms and conditions.

Continued use of the service after any such changes shall constitute your agreement to be bound by the terms and conditions.

Violation of any of the terms and conditions will result in the termination of your account and any valid agreement without prejudice.

Measured Work prohibits improper, malicious, fraudulent, illegal or any other reprehensible act that will introduce such content to the service. However, we cannot control, and therefore cannot be responsible for the content introduced to the service. You nonetheless may be exposed to such content and resultant repercussions, for which we accept no liability.

Verbal, physical, written or other abuse of any Measured Work customer or employee will result in immediate contract termination and civil or criminal proceedings being actioned against you.

You agree to use the service at your own risk. Measured Work will accept no responsibility for loss, damage or suffering caused as a result of a violation of these terms and conditions.

The failure of Measured Work to exercise or enforce these terms and conditions shall not imply an intention to not do so.

Measured Work reserves the right to refuse access to the service to anyone for any reason at any time.
General terms and conditions
Measured Work does not guarantee that the service will meet your specific requirements or that the service will be uninterrupted, secure or error-free. Furthermore, we will not guarantee that the results of automated data analysis will be accurate or reliable or that the quality of the service or its information obtained by you through normal use will meet your expectations.

You expressly understand and agree that we shall not be liable for any damages or loss as a result of using the service or the prevention of using the service including but not limited to the loss of data, unauthorised access to your account, inaccurate information produced by us, suspension or deletion of your account or alteration of your data during transmission.

Measured Work does not offer 100% uptime and the service may become unavailable from time to time as a result of maintenance or upgrading work, or other reasons beyond our control.

You understand that any data transmission by and to the service, may be transferred unencrypted and may be subject to change for technical reasons.

Customer support is only provided to paying customers and is only available via email.

You understand that Measured Work uses third parties to provide the necessary hardware, software, networking, storage, payment processing and related technology required to run the service.

You agree not to duplicate, sell, reproduce, or manipulate any portion of the service or web site without written consent from us.

We may, but without obligation, remove content and accounts containing content that we determine in our sole discretion is unlawful, offensive, or otherwise reprehensible or violates these terms and conditions.

You must not modify, adapt or change the service or produce another website to suggest a false association with us.
Purchase and use of the service
You must provide your legal full name, postal address, email address, and any other information requested in order to complete the transaction and you must be at least 18 years old.

You are responsible for maintaining any security information for your account. This information must not be divulged to anyone else. Measured Work will not be liable for any loss or damage from your failure to comply with this security obligation.

You are responsible for all data input submitted through your account. You are also equally responsible for content that is posted by users who have access to the service as a result of your account.

You may not use the service for any illegal or unauthorised purpose.

Payment of any on-account fees shall be due upon order placement. Any balance fees will be determined after all services are complete and shall become due upon release of information produced as part of the service.

All fees are exclusive of taxes imposed by law. You shall be responsible for payment of all such taxes at the time of payment.
Changes to service
Measured Work reserves the right at any time and from time to time to modify or discontinue, temporarily or permanently, the service (or any part thereof) with or without notice.

Prices of all services, are subject to change.

Measured Work shall not be liable to you or to any third party for any modification, price change, suspension or discontinuance of the service.
Data ownership
Measured Work claims no property rights over any data you enter in to the service. We reserve the right to change or destroy data for reasons described within these terms and conditions. The copyright of all data provided by the service remains the property of Measured Work until such time as all due payments have been made in full.

All data entered in to the service shall comply with copyright law.

Measured Work shall retain reasonably sufficient data to enable the conclusion of any services offered. This will typically be limited to communication and billing. Such information shall be retained for 12 months after the conclusion of business.
Contact information
In the first instance all correspondence to be presented by email to hello@measuredwork.com or call 0117 318 5775